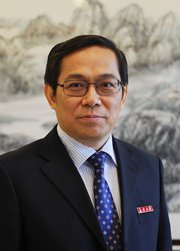 Welcome to Chang'an University in Xi'an—an ancient cultural city known worldwide. Directly affiliated to the Ministry of Education of the People's Republic of China, Chang'an University is one of the State 211 Project key development universities jointly run by the Ministry of Education, Ministry of Transport, Ministry of Land Resources, Ministry of Housing and Urban Rural Construction and Shaanxi Provincial Government. It is concurrently one of the key development universities on the State "985" Project advantage discipline innovation platform. Xi'an Highway University, Xi'an Engineering Institute and Northwest Institute of Construction Engineering, which were founded in the early 1950s merged into Chang'an University in the year 2000.

After years of long exploration and practice, Chang'an University has gradually formed its spirit of "self-improving constantly, seeking truth and being pragmatic, striving in unity and pursuing excellence" and earned its high social reputation. On this new historical stage, the university continues to maximally improve its talent cultivation quality and build the university into a first-class tertiary institution with distinctive characteristics and remarkable strength in China.

Today's university owns rich resources across time and space, and its influence is worldwide spread out. No matter you are a student or a scholar, no matter you are an alumni or a webmaster, we are happy to meet you here and welcome to join us. We treasure the chance to know each other, and we would hold your hands for the ideals we share. Let's work together to create a bright future.
Sha Aimin